Business Federal Government People & Places
Prince William Chamber's Congressional Series will host Congresswoman Jennifer Wexton on Wednesday, Sept. 4, 8-10 a.m.
Lake Ridge VA resident Elizabeth Peet McIntosh, 97, a former OSS and CIA intelligence agent, is among those to be honored as Virginia Women in History in 2012.
Virginia Department of Conservation and Recreation is accepting applications through March 31,2012 for AmeriCorpsvolunteers who will be trained to increase public awareness of Virginia's natural, historical and cultural resources at 27 of the state's 35 parks during the upcoming spring and summer.
By E. Bruce Davis
02/07/12
/ Breaking News / Business / People & Places /
Forrest Odend'hal completed his one-year term as president of the Prince William Association of Realtors in January. Now he is serving as immediate past president and a member of the Virginia Association of Realtors--and he is still advocating for property rights.
Virginia's senior Congressman, Frank Wolf, will kick off his 2012 reelection campaign at a birthday party Jan. 26 at Dulles Airport..
By Heidi M. Baumstark
01/03/12
/ Breaking News / Features / History / People & Places /
A great deal happened in 2011. The Observer newspapers picked the top 10. The top story had to be the 150th commemoration of the start of the Civil War. The top four will appear here from Jan. 3 to Jan. 6, 2012. All 10 appear in the print edition of the Observer.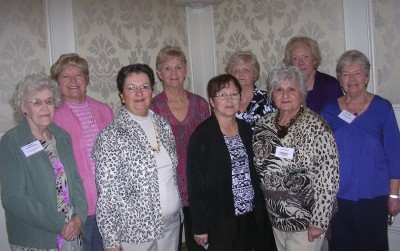 Heritage Hunt Women's Organizations gives more than a dollar a day to help local groups. Shown here, in the front row, from left, are: Eleanor Casey-D'Andrea, Joanne Tuttle (committee chair), Margaret Gorzka, Gerri Risso; in the back row, from left, are: Teri Bisaga, Diane Wilson, Charlotte Klingman, Joan Mitchell and Mary Slevin. Photo by E. Bruce Davis
Heritage Hunt homeowners Golf and Country Club uses its impressive facilities to host a variety of events for the holidays. Many occasions involve meals or refreshments arranged for by the food and beverage staff of Billy Casper Golf, led by Tim O'Mara. Some are productions of chartered clubs within Heritage Hunt. All of them are full of holiday cheer.