Breaking News Local Government Local History
FROM Office of Mayor Earnie Porta
03/24/19
/ Breaking News / Local Government / Local History /
The Town of Occoquan recently received a new historical marker, situated at the base of the Nathaniel Ellicott footbridge and the town's River Mill Park. This new marker details the history of the Ballendine Ironworks and the Janney Cotton Mill.
07/28/11
/ Breaking News /
The 28th National Night Out will be celebrated Aug. 2 throughout Prince William County.
07/28/11
/ Breaking News /
Many school supplies and clothing items in Virginia will be exempt from state and local sales taxes next weekend, Aug. 5-7. This is the sixth year for what is called a "sales tax holiday." Some restrictions apply.
By HEIDI M. BAUMSTARK
07/27/11
/ Breaking News / History /
Prince William County and Manassas commemorate 150th Civil War anniversary.
By HEIDI M. BAUMSTARK
07/22/11
/ Breaking News / Features / History /
The 150th Civil War anniversary was commemorated July 21-24 in Manassas and Prince William County.
By Heidi Baumstark
07/22/11
/ Breaking News / History /
Thousands of young men from the north and south converged on the fields of Manassas 150 years ago to see who would be the victor on July 21, 1861. The battle, known as the first major land battle of the 1861-1865 Civil War, or the First Battle of Manassas, resulted in a Confederate win. The war lasted longer than expected; more than 620,000 casualties occurred before Lee finally surrendered to Grant on April 9, 1865.
07/20/11
/ Breaking News /
Reenactors and Civil War history lovers John McAnaw, Mark Trbovich and color guard members pause for a moment of silence on July 18 to remember the 34 men who died 150 years ago at the Battle of Blackburn's Ford at the Prince William-Fairfax county border.
By Heidi Baumstark
07/09/11
/ Breaking News /
The "Gods and Generals" movie depicting scenes from the Civil War, which started 150 years ago. The movie premieres in Manassas at the Hylton Center on July 22.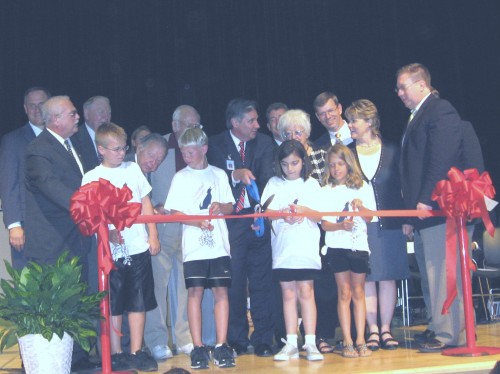 Nokesville's Patriot High School and T. Clay Wood Elementary School banned together to hold a ribbon-cutting ceremony for the adjacent schools. The June 28 ceremony drew a standing room only audience of students, staff, parents and guests, filling Patriot High School's state-of-the-art auditorium. Many dignitaries attended the evening event as well. Here, students of T. Clay Wood, which will open in the fall, ready to cut the ribbon officially opening their school.