Health & Safety Nokesville State Government Transportation
FROM Virginia Department of Transportation (VDOT)
05/19/22
/ Health & Safety / Nokesville / State Government / Transportation /
Vint Hill Road (Route 215) in the Greenwich area of Nokesville, between Greenwich Road (Route 603) and Burwell Road (Route 604) in the area of Greenwich Presbyterian Church in Nokesville will be closed, weather permitting, at 9 p.m. May 20.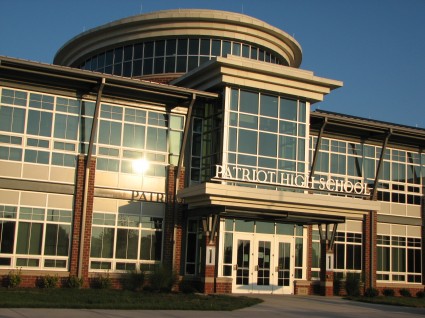 Patriot High School, in Nokesville, is ready to have students gracing its halls. Principal Dr. Michael Bishop is excited to welcome students. Patriot's final orientation is scheduled for Aug. 31, 6-8 p.m. A pep rally is planned for Sept. 5 from 6 to 8 p.m.; classes begin Sept. 6. Patriot High School, at 10504 Kettle Run Road in Nokesville, can be reached at 703-594-3020. Its website is patrioths.schools.pwcs.edu.
Photo by Sudha Kamath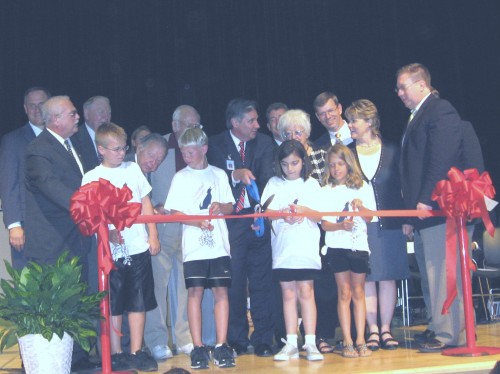 Nokesville's Patriot High School and T. Clay Wood Elementary School banned together to hold a ribbon-cutting ceremony for the adjacent schools. The June 28 ceremony drew a standing room only audience of students, staff, parents and guests, filling Patriot High School's state-of-the-art auditorium. Many dignitaries attended the evening event as well. Here, students of T. Clay Wood, which will open in the fall, ready to cut the ribbon officially opening their school.
By JAMES IVANCIC
06/08/11
/ Breaking News / Education / Nokesville /
Kettle Run High School in Nokesville in Fauquier County held its second graduation ceremony on June 2. The school's dignitaries addressed the class of 2011 before they received their diplomas. This photo shows the school's first graduation ceremony, in 2010.
Brentsville Supervisor Wally Covington donated $5,000
to Parkside Middle School as matching funds for the school's single-event fall fundraiser. The money will go to technology upgrades at the Manassas school in Prince William County. Covington made good on his promise at the opening night of the Manassas school's "Beauty and the Beast" presentation in early May. Covington is shown here reading to school children at another area Prince William County school, Pace West, earlier this school year.