Breaking News Environment Health & Safety State Government
Dominion Energy Virginia is asking State Corporation Commission regulators to OK a four-month extension of its "no disconnection" policy. The electric utility is expanding assistance to Virginia customers facing hardship, offering a more generous payment plan and new direct assistance, while the pandemic continues to impact millions of Americans across the country.
By HEIDI M. BAUMSTARK
07/22/11
/ Breaking News / Features / History /
The 150th Civil War anniversary was commemorated July 21-24 in Manassas and Prince William County.
By Heidi Baumstark
07/22/11
/ Breaking News / History /
Thousands of young men from the north and south converged on the fields of Manassas 150 years ago to see who would be the victor on July 21, 1861. The battle, known as the first major land battle of the 1861-1865 Civil War, or the First Battle of Manassas, resulted in a Confederate win. The war lasted longer than expected; more than 620,000 casualties occurred before Lee finally surrendered to Grant on April 9, 1865.
07/20/11
/ Breaking News /
Reenactors and Civil War history lovers John McAnaw, Mark Trbovich and color guard members pause for a moment of silence on July 18 to remember the 34 men who died 150 years ago at the Battle of Blackburn's Ford at the Prince William-Fairfax county border.
By Heidi Baumstark
07/09/11
/ Breaking News /
The "Gods and Generals" movie depicting scenes from the Civil War, which started 150 years ago. The movie premieres in Manassas at the Hylton Center on July 22.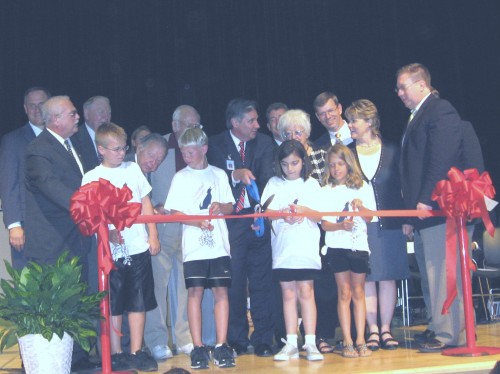 Nokesville's Patriot High School and T. Clay Wood Elementary School banned together to hold a ribbon-cutting ceremony for the adjacent schools. The June 28 ceremony drew a standing room only audience of students, staff, parents and guests, filling Patriot High School's state-of-the-art auditorium. Many dignitaries attended the evening event as well. Here, students of T. Clay Wood, which will open in the fall, ready to cut the ribbon officially opening their school.
Drivers on Wellington Road, between VA 28 (Nokesville Road) and Dean Drive, from 11 p.m. to 5 a.m. will have to take a detour on July 5, 6 and 7. The detour is part of the VA 28 overpass construction in this area. Message boards inform drivers of the area of the upcoming closure.
By Terri Erwin-Fitz
06/27/11
/ Breaking News / Health & Safety /
Nonprofit SERVE is in need of donations during the summer months, which is a time when donations typically fall off a bit.
By E. Bruce Davis
06/20/11
/ Breaking News / Features /
Grandfathers in Prince William County share the joys of having grandbabies. Carlos Hernandez, Dr. Thomas Chamberlain (shown with his grandson here), Richard Parker and John Medlock talked of the joys and surprises of their offspring having offspring.