Breaking News Health & Safety Money & Taxes People & Places State Government Transportation
Some 627,000 Virginians will get back their licenses to drive after Gov. Northam March 26 amended legislation to eliminate the practice of suspending driving privileges for nonpayment of court fines and costs.
By Sudha Kamath
09/13/11
/ Breaking News /
George Mason University's Fall for the Book is holding many events in Northern Virginia. Locally, there will be an event at 9300 Stonewall Road in Manassas. On Sept. 22 at the church, Amy Waters Yarsinske of the Norfolk Historical Foundation will discuss her latest book, "Flyboys Over Hampton Roads," about the training camp of World War I pilots.
By Gretchen L.H. O'Brien
09/10/11
/ Breaking News / Health & Safety /
Manassas's Stonewall Stonewall Jackson Volunteer Fire Department and Rescue Squad held a 110-story stair climb to remember the 10th anniversary of Sept. 11, 2001. Proceeds
from the climb benefit the National Fallen Firefighters Foundation. More than 100 volunteer and career firefighters spent the morning climbing so people never forget that day and the people who died. Before the actual climb began, participants and planners gathered together for a prayer and a moment of silence to remember the men and women who died a decade ago trying to save others.
Photo by Kathy Sansone
By Richard G. Johnstone Jr.
09/09/11
/ Breaking News /
Cooperative Living's Richard Johnstone Jr. reflects on the occurences and his remembrances from Sept. 11, 2001, which occurred a decade ago.
09/09/11
/ Breaking News /
Heavy rains in Prince William County and throughout Northern Virginia caused massive traffic delays on Sept. 8 and school and road closures on Sept. 9
Hildebrand family is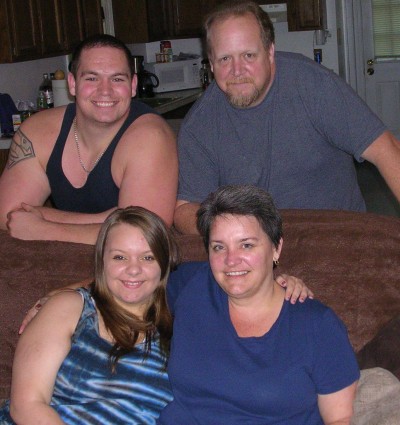 together and happy after Battlefield High School graduate Jessica Hildebrand gets her mom's kidney in a transplant. Shown here seated, are Jessica and her mother, Tish, with Jessica's brother, Ricky, and father, Rick, standing behind them.
By Jan Davis
09/01/11
/ Breaking News / Bristow / Education /
Prince William County schools welcomed its newest elementary school to the division on Aug. 24, when Piney Branch Elementary School, at 8301 Linton Hall Road in Bristow,
held a dedication and ribbon-cutting ceremony. The 57th elementary school was opened by its community of students, teachers, special guests and families, who exhibited enthusiasm for the new school with a standing-room only audience. Two students are shown here at the new Piney Branch Elementary school pause with the school's Cardinal mascot.
Stay Alert: 800 School Buses Will Roll on Sept. 6 in Prince William County.
Some 650 teachers joined Prince William County Schools' ranks for the 2011-12 school year. Some just graduated from college, others have taught for years elsewhere and still others have had careers in other professions but are joining the ranks of the teachers in the county.