News
FROM Prince William County Government
04/11/19
/ Breaking News / Local Government / People & Places / Politics /
Prince William County's newest supervisor, Victor S. Angry, was sworn in April 11 to fill the Neabsco District seat on the Prince William Board of County Supervisors. Angry takes over the seat left vacant at the death of John D. Jenkins, who served on the board for 36 years before his death in February.
By TERRI L. ERWIN-FITZ
06/03/11
/ Breaking News / Religion /
Prince William County churches have many vacation Bible schools planned. Parents looking to have their children participate in religious learning may want to check out the June 3 issue of the Bull Run Observer for a more lengthy list of summer offerings.
Prince William County Police Department's crime report for June 3, 2011.
By JAN DAVIS
06/02/11
/ Breaking News / Education / Manassas /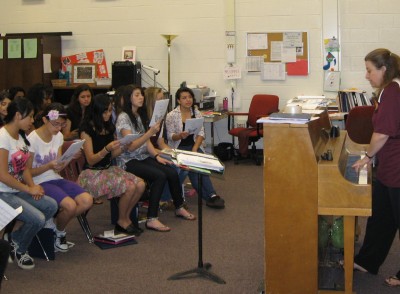 Stonewall Middle School's Susan Dommer, Stonewall Middle School chorus teacher, has worked with her students to create a concert featuring songs from the Civil War. Her accompanist, Sarah Fairchild, researched the era and created new versions of the songs that commemorate the Civil War. This year marks the 150th anniversary of the start of that war.
A century of providing volunteer service and support to the community is the hallmark of Hay Market Lodge 313, which is poised to celebrate this milestone on June 18, 2011 when the Grand Master of Masons in Virginia arrives.
Prince William County Police Department's crime report for June 2, 2011.
Prince William County Police Department's crime report for June 1, 2011.
Man, it's hot. High temperatures in Manassas area cause NOAA to issue heat advisory on May 31, 2011. The National Oceanic Atmospheric Administration issued a heat advisory and the Prince William County Department of Fire and Rescue advises locals to watch out for heat stroke.
Prince William County Police Department's crime report for May 31, 2011.
Today's Obituaries
A funeral service and celebration of life for Suzannw M. Blais will be held at Holy Family Catholic Church beginning at 10 a.m. on Friday, March 1, 2019. Interment will follow at Quantico National Cemetery at 1 p.m.
Due to the school closure on Feb. 11, Brentsville Supervisor Jeanine Lawson has rescheduled the Town Hall for the Alliance to Save Carver Road to Wednesday, February 27, from 7 to 9 p.m. at Haymarket Elementary School.
A funeral service was held on Feb. 15 in Dumfries for John Harper Jr., former member of the Prince William County School Board. Covington-Harper Elementary School was named, in part, for Harper.
Business Directory
Whitlock Wealth Management
Accounting and Financial ServicesProfessional Services
A private wealth advisory
practice of Ameriprise
Financial Services, Inc.
12848 Harbor Drive, Suite 101, Woodbridge, VA 22192
703-492-7732 or 877-944-8562
Website
News