News
FROM Prince William Health District
01/15/22
/ Health & Safety / Manassas / State Government / Woodbridge /
Upcoming COVID testing and Covid immunization times and locations
By LAURA MATTHEWS
07/03/11
/
Maureen Matty, a first grade teacher in Prince William County, VA, for 35 years, has retired from Signal Hill Elementary School in Manassas
By ROSE MURPHY
07/02/11
/
Manassas City Council has accepted a $1.4 million SAFER grant to expand firefighting capabilities by adding 12 new positions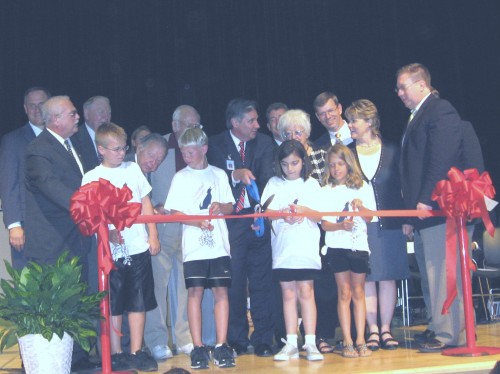 Nokesville's Patriot High School and T. Clay Wood Elementary School banned together to hold a ribbon-cutting ceremony for the adjacent schools. The June 28 ceremony drew a standing room only audience of students, staff, parents and guests, filling Patriot High School's state-of-the-art auditorium. Many dignitaries attended the evening event as well. Here, students of T. Clay Wood, which will open in the fall, ready to cut the ribbon officially opening their school.
Prince William County Police Department's crime report for June 30, 2011.
Prince William County Police Department's crime report for June 29, 2011.
Drivers on Wellington Road, between VA 28 (Nokesville Road) and Dean Drive, from 11 p.m. to 5 a.m. will have to take a detour on July 5, 6 and 7. The detour is part of the VA 28 overpass construction in this area. Message boards inform drivers of the area of the upcoming closure.
Prince William County Police Department's crime report for June 28, 2011.
By Terri Erwin-Fitz
06/27/11
/ Breaking News / Health & Safety /
Nonprofit SERVE is in need of donations during the summer months, which is a time when donations typically fall off a bit.
Today's Obituaries
Sandra Lea Nelson Heefner, a strong Christian woman who was a member of the Lake Ridge Baptist Church in Woodbridge, VA for more than 30 years, died Dec. 18, 2021. She loved to sing in church and was passionate about teaching young children. A service will be held at Lake Ridge Baptist Church at a later date.
The Family of John Leonard Loveland, who died Feb. 6, 2021, will receive friends and host John's Celebration of Life Memorial Service at 11 a.m. on Saturday, Oct. 30, 2021 at Park Valley Church, 4500 Waverly Farm Drive, Haymarket VA 20169. Interment will take place at Arlington National Cemetery at a later time.
A funeral service for Harold Royer Weybright, 89, of Nokesville will be held at 10 a.m. on Saturday, Oct. 23, 2021 at Nokesville Church of the Brethren, 13002 Fitzwater Drive, Nokesville, VA 20181. The family will receive friends for one hour before the service. Mr. Weybright, died on Friday, Oct. 15, 2021 at Blue Ridge Christian Homes.
Business Directory
Gainesville Family Dental Center
Dentists
Margaret Neal Stubblefield, DDS, FAGD
Cosmetic Dentistry, Implants,
Laser Surgery, Invisalign Specialist,
Comprehensive Dentistry
Your Smile Begins Here!
12701 Braemar Village Plaza, Bristow, VA 20136
703-368-1272
Website
News