News
FROM Prince William County Government - Solid Waste Division
09/19/21
/ Business / Environment / Health & Safety / Local Government /
Businesses in Prince William County must now complete and file an annual recycling report with the Department of Public Works by Oct. 15 each year. Code changes that took effect in January 2021 moved the reporting deadline from Feb. 15 to Oct. 15. Homes businesses and businesses based in incorporated towns are exempt.
A new cookbook with hundreds of recipes, cooking tips, recipe notes, local history, photos of local people and of beautiful stained glass church windows has been produced by the women of Sudley United Methodist Church.
By LAURA MATTHEWS
07/03/11
/
Maureen Matty, a first grade teacher in Prince William County, VA, for 35 years, has retired from Signal Hill Elementary School in Manassas
By ROSE MURPHY
07/02/11
/
Manassas City Council has accepted a $1.4 million SAFER grant to expand firefighting capabilities by adding 12 new positions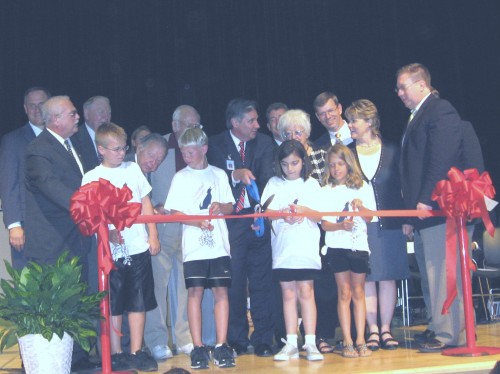 Nokesville's Patriot High School and T. Clay Wood Elementary School banned together to hold a ribbon-cutting ceremony for the adjacent schools. The June 28 ceremony drew a standing room only audience of students, staff, parents and guests, filling Patriot High School's state-of-the-art auditorium. Many dignitaries attended the evening event as well. Here, students of T. Clay Wood, which will open in the fall, ready to cut the ribbon officially opening their school.
Prince William County Police Department's crime report for June 30, 2011.
Prince William County Police Department's crime report for June 29, 2011.
Drivers on Wellington Road, between VA 28 (Nokesville Road) and Dean Drive, from 11 p.m. to 5 a.m. will have to take a detour on July 5, 6 and 7. The detour is part of the VA 28 overpass construction in this area. Message boards inform drivers of the area of the upcoming closure.
Prince William County Police Department's crime report for June 28, 2011.
Today's Obituaries
A memorial service was held on July 1, 2021 at Saint Mary of Sorrows Historic Catholic Church, 5612 Ox Road, Fairfax Station, VA 22039 for Paul Douglas Campbell, 61, of Shepherdstown, WV Mr. Campbell passed away on June 15, 2021. A mass for the repose of his soul will be said at St. Joseph's Catholic Church in Martinsburg, WV on Saturday, July 3, at 5 p.m.
A viewing and funeral service for Joyce A. Lightner of Manassas will be held on Friday, June 18, 2021 at Pierce Funeral Home, 9609 Center Street, Manassas, VA 20110. The viewing will take place from 11 a.m. to 1 p.m. followed by the funeral service from 1 to 2 p.m.
A Mass of Christian Burial was held April 7, 2021, at All Saints Catholic Church in Manassas, for Richard "Skip" Zilka who passed away March 22, 2021. Father Ed Guilloux officiated. Interment was private at Quantico National Cemetery with military honors.
Business Directory
Potomac Window Cleaning Co.
Cleaning ServicesProfessional ServicesWindow Cleaning
Family Owned & Operated; 30 Years
Residential Window Cleaning Specialists!
Ask about our Low pressure, no damage
power washing; soft brush removes
embedded dirt in siding, stone, wood & brick.
Licensed, Bonded & Insured.
703-356-4459
News