US Department of Homeland Security, Federal Emergency Management Agency (FEMA) has given six days noticeof a virtual public meeting on June 28, 2022 for public comment on a significant change to Virginia's alert and notification system for nuclear power plant emergencies. FEMA will conduct an exercise of the new system --no warnings only cell phone alerts - on June 28, 2022.
By TERRI L. ERWIN-FITZ
06/03/11
/ Breaking News / Religion /
Prince William County churches have many vacation Bible schools planned. Parents looking to have their children participate in religious learning may want to check out the June 3 issue of the Bull Run Observer for a more lengthy list of summer offerings.
Prince William County Police Department's crime report for June 3, 2011.
By JAN DAVIS
06/02/11
/ Breaking News / Education / Manassas /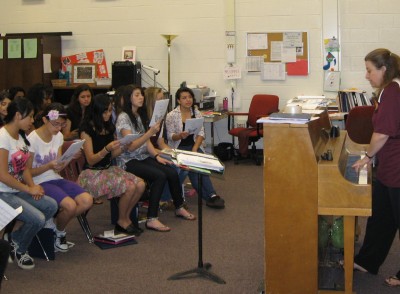 Stonewall Middle School's Susan Dommer, Stonewall Middle School chorus teacher, has worked with her students to create a concert featuring songs from the Civil War. Her accompanist, Sarah Fairchild, researched the era and created new versions of the songs that commemorate the Civil War. This year marks the 150th anniversary of the start of that war.
A century of providing volunteer service and support to the community is the hallmark of Hay Market Lodge 313, which is poised to celebrate this milestone on June 18, 2011 when the Grand Master of Masons in Virginia arrives.
Prince William County Police Department's crime report for June 2, 2011.
Prince William County Police Department's crime report for June 1, 2011.
Man, it's hot. High temperatures in Manassas area cause NOAA to issue heat advisory on May 31, 2011. The National Oceanic Atmospheric Administration issued a heat advisory and the Prince William County Department of Fire and Rescue advises locals to watch out for heat stroke.
Prince William County Police Department's crime report for May 31, 2011.
Today's Obituaries
Sandra Lea Nelson Heefner, a strong Christian woman who was a member of the Lake Ridge Baptist Church in Woodbridge, VA for more than 30 years, died Dec. 18, 2021. She loved to sing in church and was passionate about teaching young children. A service will be held at Lake Ridge Baptist Church at a later date.
The Family of John Leonard Loveland, who died Feb. 6, 2021, will receive friends and host John's Celebration of Life Memorial Service at 11 a.m. on Saturday, Oct. 30, 2021 at Park Valley Church, 4500 Waverly Farm Drive, Haymarket VA 20169. Interment will take place at Arlington National Cemetery at a later time.
A funeral service for Harold Royer Weybright, 89, of Nokesville will be held at 10 a.m. on Saturday, Oct. 23, 2021 at Nokesville Church of the Brethren, 13002 Fitzwater Drive, Nokesville, VA 20181. The family will receive friends for one hour before the service. Mr. Weybright, died on Friday, Oct. 15, 2021 at Blue Ridge Christian Homes.
Business Directory
Long & Foster - Bill Denny
Real Estate
The Bill Denny Group
Selling our listings in
less than 25 days in 2016!
"We live here.
We work here." (tm)
7526 Limestone Drive, Gainesville, VA 20155
703-629-3360
Website
News