Education Health & Safety
FROM YOVASO
06/02/22
/ Education / Health & Safety /
The four-day, three-night retreat offers educational and hands-on activities designed for freshmen-senior teens who want to learn how to be safer drivers and passengers, as well as teens who want to train as leaders for youth traffic safety.
By Jan Davis
09/01/11
/ Breaking News / Bristow / Education /
Prince William County schools welcomed its newest elementary school to the division on Aug. 24, when Piney Branch Elementary School, at 8301 Linton Hall Road in Bristow,
held a dedication and ribbon-cutting ceremony. The 57th elementary school was opened by its community of students, teachers, special guests and families, who exhibited enthusiasm for the new school with a standing-room only audience. Two students are shown here at the new Piney Branch Elementary school pause with the school's Cardinal mascot.
Stay Alert: 800 School Buses Will Roll on Sept. 6 in Prince William County.
Some 650 teachers joined Prince William County Schools' ranks for the 2011-12 school year. Some just graduated from college, others have taught for years elsewhere and still others have had careers in other professions but are joining the ranks of the teachers in the county.
The late-August issues of the Bull Run Observer, Manassas Observer and Old Bridge Observer all offer must-have back-to-school information for parents, students and the community.
Prince William County Schools requires parents and students to attend concussion training before students can even try out for sports, regardless of whether they are contact or noncontact sports.
Prince William public school seniors get high marks on national ACT college-readiness test.
By GRETCHEN L.H. O'BRIEN
08/12/11
/ Breaking News / Education /
Many area students performed extremely well on their Virginia Standards of Learning (SOL) tests. Even still, no area school division—Prince William, Fauquier county, Manassas City nor Manassas Park—achieved all the benchmarks required to earn the national Adequate Yearly Progress (AYP) standard. They were in line with 124 other school divisions that failed to make AYP. Only four school divisions as a whole achieved AYP, which requires not only high numbers of students to pass the math and reading SOLs, but that certain groups of students meet SOL pass rates, graduation and attendance rates as well.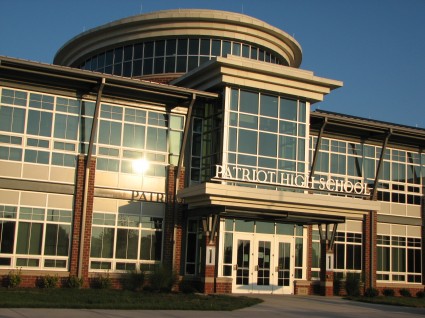 Patriot High School, in Nokesville, is ready to have students gracing its halls. Principal Dr. Michael Bishop is excited to welcome students. Patriot's final orientation is scheduled for Aug. 31, 6-8 p.m. A pep rally is planned for Sept. 5 from 6 to 8 p.m.; classes begin Sept. 6. Patriot High School, at 10504 Kettle Run Road in Nokesville, can be reached at 703-594-3020. Its website is patrioths.schools.pwcs.edu.
Photo by Sudha Kamath