Breaking News Education Nature and the Outdoors
Looking for something different to do this holiday season? Check out the Irene V. Hylton Planetarium's presentation of "Holiday Lights" on Saturdays, Dec. 7, Dec. 14 and Dec. 21 at Hylton High School at 14051 Spriggs Rd. off VA 234.
By JAMES IVANCIC
06/08/11
/ Breaking News / Education / Nokesville /
Kettle Run High School in Nokesville in Fauquier County held its second graduation ceremony on June 2. The school's dignitaries addressed the class of 2011 before they received their diplomas. This photo shows the school's first graduation ceremony, in 2010.
By JAN DAVIS
06/02/11
/ Breaking News / Education / Manassas /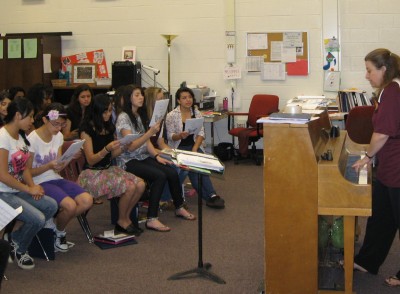 Stonewall Middle School's Susan Dommer, Stonewall Middle School chorus teacher, has worked with her students to create a concert featuring songs from the Civil War. Her accompanist, Sarah Fairchild, researched the era and created new versions of the songs that commemorate the Civil War. This year marks the 150th anniversary of the start of that war.
Students at Cedar Point Elementary School
in Bristow got a close-up view of flying machines, including a hot air balloon. Again this year, Cindy Brennan created a program designed to whet students' appetites to learn more about space programs and flight.
Glenkirk Elementary School in Gainesville, Va., hosted "Knight at the Museum" to display artwork from kindergarteners through fifth-graders. Artwork designed to honor America, such as the flag shown here, as well as creations to show celebrations in many countries around the world, adorned the walls of the school that opened its doors to the community to feature the many young artists.
Brentsville Supervisor Wally Covington donated $5,000
to Parkside Middle School as matching funds for the school's single-event fall fundraiser. The money will go to technology upgrades at the Manassas school in Prince William County. Covington made good on his promise at the opening night of the Manassas school's "Beauty and the Beast" presentation in early May. Covington is shown here reading to school children at another area Prince William County school, Pace West, earlier this school year.
By Randi Reid
05/09/11
/ Education /
Virginia Association of School Superintendents names Dr. Gail Pope
of Manassas City Schools as top superintendent among 20 counties and cities in Region IV.