Breaking News People & Places Police & Fire Beat Woodbridge
FROM Prince William County Police Department Reports
07/01/22
/ Breaking News / People & Places / Police & Fire Beat / Woodbridge /
On July 1 at 4:28AM, officers responded to the 13900 block of Jefferson Davis Hwy. in Woodbridge (22191) to investigate a shooting, according to MPO Renee Carr. public information officer.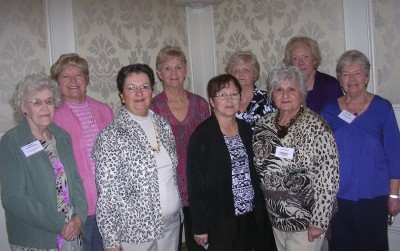 Heritage Hunt Women's Organizations gives more than a dollar a day to help local groups. Shown here, in the front row, from left, are: Eleanor Casey-D'Andrea, Joanne Tuttle (committee chair), Margaret Gorzka, Gerri Risso; in the back row, from left, are: Teri Bisaga, Diane Wilson, Charlotte Klingman, Joan Mitchell and Mary Slevin. Photo by E. Bruce Davis
T. Clay Wood Elementary School, which opened in September, held its first literacy night on Dec. 13 from 6:30 to 7:30 p.m. The nightwas considered a success by Principal Andrew Buchheit, shown here with Dr. Seuss' Grinch and Norman Bridwell's Clifford the Big Red Dog.
Heritage Hunt homeowners Golf and Country Club uses its impressive facilities to host a variety of events for the holidays. Many occasions involve meals or refreshments arranged for by the food and beverage staff of Billy Casper Golf, led by Tim O'Mara. Some are productions of chartered clubs within Heritage Hunt. All of them are full of holiday cheer.
By Sudha Kamath
12/08/11
/ Breaking News / Health & Safety /
Prince William County residents who are looking for pets should watch for the new pet adoption van, which will be unveiled Saturday, Dec. 10. The P.A.W. (Pet Adoption on Wheels) Express, bought in the summer by the Prince William Society for the Prevention of Cruelty to Animals (SPCA) with a $154,565 grant from the PETCO Foundation, is making its public debut at 2 p.m. at the Prince William County Animal Shelter, at 14807 Bristow Road in Manassas. The van can hold about 26 cats and dogs. Potential adopters can see the animals through roll-up windows on the van, then walk through the van to meet the animals.
By Gretchen L.H. O'Brien

12/06/11

/ Breaking News / Local Government /

John Stirrup, who has been Gainesville

supervisor for eight years, introduced Peter Candland, who will take Stirrup's seat and Dick Black, against whom Stirrup ran for state senate, among other newcomers and old hands in the political arena at a Dec. 5 meeting at Haymarket's Battlefield High School. This was Stirrup's last town hall meeting, which started at 7:30 p.m. After the candidates spoke at the lectern, they participated in a question-and-answer session with audience members.

stirrup last mtg (5).JPG
Customers Aldo Rodriguez and Megan Van Stry from Haymarket (on left) with Gainesville Ruritans Bart Colendene and Cynthia Hughes. Photo by Jan Davis. Gainesville-Haymarket Ruritans offer fruit for locals. Honeybells are to come, by order-ahead only.
By Terri L. Erwin-Fitz
12/02/11
/ Breaking News / Haymarket / People & Places /
Haymarket resident Angela Knight, a heralded opera singer, is putting on a Dec. 3 concert for two local community members in need. This year's production, "Winter Wonderland," will be performed Dec. 3 at Battlefield High School. The concert will benefit two local families, struggling with illnesses, that "need to know they are loved by the community," she explained.
John Cole will again be Santa's helper at the Town of Haymarket's annual holiday festivities on Dec. 3 in front of town hall on Washington Street.