Breaking News Federal Government People & Places
The United States Postal Service Oct. 2 released a new Forever stamp honoring the late Supreme Court Justice Ruth Bader Ginsburg, an icon of American culture. The stamp' was unveiled atat the Smithsonian's National Portrait Gallery during a first-day-of-issue dedication ceremony that was open to the public.
By E. Bruce Davis
02/07/12
/ Breaking News / Business / People & Places /
Forrest Odend'hal completed his one-year term as president of the Prince William Association of Realtors in January. Now he is serving as immediate past president and a member of the Virginia Association of Realtors--and he is still advocating for property rights.
Virginia's senior Congressman, Frank Wolf, will kick off his 2012 reelection campaign at a birthday party Jan. 26 at Dulles Airport..
By Heidi M. Baumstark
01/03/12
/ Breaking News / Features / History / People & Places /
A great deal happened in 2011. The Observer newspapers picked the top 10. The top story had to be the 150th commemoration of the start of the Civil War. The top four will appear here from Jan. 3 to Jan. 6, 2012. All 10 appear in the print edition of the Observer.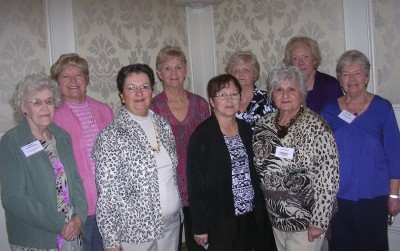 Heritage Hunt Women's Organizations gives more than a dollar a day to help local groups. Shown here, in the front row, from left, are: Eleanor Casey-D'Andrea, Joanne Tuttle (committee chair), Margaret Gorzka, Gerri Risso; in the back row, from left, are: Teri Bisaga, Diane Wilson, Charlotte Klingman, Joan Mitchell and Mary Slevin. Photo by E. Bruce Davis
Heritage Hunt homeowners Golf and Country Club uses its impressive facilities to host a variety of events for the holidays. Many occasions involve meals or refreshments arranged for by the food and beverage staff of Billy Casper Golf, led by Tim O'Mara. Some are productions of chartered clubs within Heritage Hunt. All of them are full of holiday cheer.
By Terri L. Erwin-Fitz
12/02/11
/ Breaking News / Haymarket / People & Places /
Haymarket resident Angela Knight, a heralded opera singer, is putting on a Dec. 3 concert for two local community members in need. This year's production, "Winter Wonderland," will be performed Dec. 3 at Battlefield High School. The concert will benefit two local families, struggling with illnesses, that "need to know they are loved by the community," she explained.
By Gail Williams
11/18/11
/ Breaking News / People & Places /
Nokesville Horse Society, along with other volunteers and partners, works hard to keep Conway Robinson Forest clean and paths clear of debris.